Careers
+WeCreate is a collective group of directors and practitioners that use the power of imagery to shape perception and influence behavior. Our focus is to capture what is most loved about a destination, product or service.
We are always looking for key players to fill roles and contribute their talents to our team.
Openings
We are looking for badass folks with the following skills:
+ FRONT-END WEB DEVELOPER
You are: A savvy geek with programing moves that put Zurkerburg to shame.
You're willing to bring your knowledge and wit to the table and innovate. You wake up everyday motivated to learn and think independently.
Here, you'll be expected to test, research, and prototype solutions to problems and present them to the team. Your attention to detail allows you to mock-up, iterate, and present designs and interaction. You take ownership in your work and understand your responsibility as part of a small, growing team.
You have some familiarity designing UI systems, dashboards, and/or digital products. You have intimate knowledge of front end technologies - Node, ES6, HTML, and CSS.
We are: Brilliant collaborators on a mission to change the game.
We're a group of developers responsible for client applications & service product development. We work closely with our Product & Design Teams to produce consistent and cohesive experiences for our clients. We create with Go, Node, and ES6. Experience with those technologies is preferred (although not mandatory if you prove you're hungry to learn).
We need: Innovators and humble learners.
You'll help build and evolve our design systems -- extending components and adding new ones to our library.
You'll sketch and prototype ideas to understand viability, time needed to execute, and user experience.
You'll help translate feature requests and user experience issues into shippable designs and code.
You'll whiteboard ideas with the team, provide and receive feedback, and iterate concepts, designs, and interactions.
You'll weigh in on product decisions, design direction, and feature roadmap.
+ CREATIVE PROJECT MANAGER
You are: Hungry to cross the finish line with team members alongside you.
As Creative Project Manager, you're able to balance the morale of your team and the deadlines of the clients. You're great under pressure, in fact, you thrive when you're challenged to find solutions. You're able to direct a group of creatives down the most efficient route and feel comfortable creating workflows.
We are: Dedicated creatives willing to give it our all.
Our project managers are inventive. We're big-picture thinkers, able to tend to the important details. We work with all verticals of production. From video to digital to tech. development, we have our hands in all departments of WeCreate.
We need: Innovators and humble learners.
You'll be responsible for workflow and project deadlines.
You'll have a grasp on a client's collateral materials, branding, and social/digital/video content.
You'll understand agency business and be able to make business decisions that benefit and protect the agency and the client.
You're a creative problem solver.
+ COPYWRITER
You are: In love with words and kinda get a kick out of correcting someone's grammar.
It's not out of malice, you just really can't stop yourself from correcting people's use of the oxford comma. Your motivation is purely from your deep love for perfection and the English language. In fact, you're probably reading this looking for grammatic red flags.
We are: Creative writing chameleons.
We're an agency of many different brands. Our clients' brands are sometimes so contrasting we switch the music up in the office to get in the right mood. We write and create content for different audiences all day long and require an ability to appropriately switch tone and voice when writing for specific needs.
We need: Modern day Shakespeares.
You're flexible in tone and approach.
You're able to communicate high-end hospitality brands one project and fun, quirky brands the next.
You have an acute attention to detail.
You're a collaborator and a keen listener.
+ PRODUCTION DESIGNER
You are: A growing designer who's probably really great at Simon Says.
You're a wiz. at cranking out designs/collateral while following the direction of a Creative Director. You feel comfortable producing print, packaging, advertising digital graphics. You're able to take constructive criticism and your pride won't prohibit you from learning from mistakes. You're not fearful of working in a high-level creative atmosphere with client demands. If you can't tell the difference between Kinfolk and People Magazine, this probably isn't the place for you.
We are: An agency full of intense creative.
We have a constant flow of graphic needs and client requests that we meet with vision, clean branding, and an attention to the details. We also love mindshare and the growth of our team from within. We thrive off collaboration and learning new tricks and efficiencies from each other. We offer agency opportunities and knowledge unique to this area.
We need: Fast designers able to focus on details.
You have a mix of both creative and technical skills.
You have 1-2 years experience in Adobe Suite.
You're able to work quickly while maintaining an extremely detail-oriented mindset.
Your most common duty is preflight formatting, in addition to collecting, processing, checking and uploading files.
We are always keeping an eye out for:
Art Directors • Designers • Videographers • Photographers
This place isn't for the faint of heart.
Sarcasm is a must.
We are Humble
Pride can get in the way of learning and collaborating. We have the mindset that individual success becomes a byproduct of our team's success. Leave the ego at the door and lets make shit.
We Stay Positive
We believe there's good in everything. We try to see the good before we focus on the negative. If you are a naturally negative person we can't fix you, but we love you.
We Make it Work
Creativity is the answer. We don't let budget and resources hinder our ability to produce something amazing for ourselves and our clients. We want critical thinkers and dreamers and those willing to look beyond the obvious.
We Work Hard
We create at a different level. That might not be for everyone and that's ok. We just compete on a different stage and that requires expert level players.
We are Weird
We embrace change. We expect you to be yourself and be open to new things and growth. We expect you to challenge yourself to see other points of view. Try to see what other people like and why. Bottomline, don't suck.
We are Students and Teachers
We are constantly learning and we find value in sharing our knowledge with each other and celebrate our growth.
We have fun
The average work week could have you working on a website for the number one resort in America to creating a 8 foot tall shoe out of cardboard. You could walk into the office and hear someone rapping, playing ping pong, or storyboarding a major production over a beer and some days its all three. No two days are alike and everyday you'll be challenged, yet fulfilled.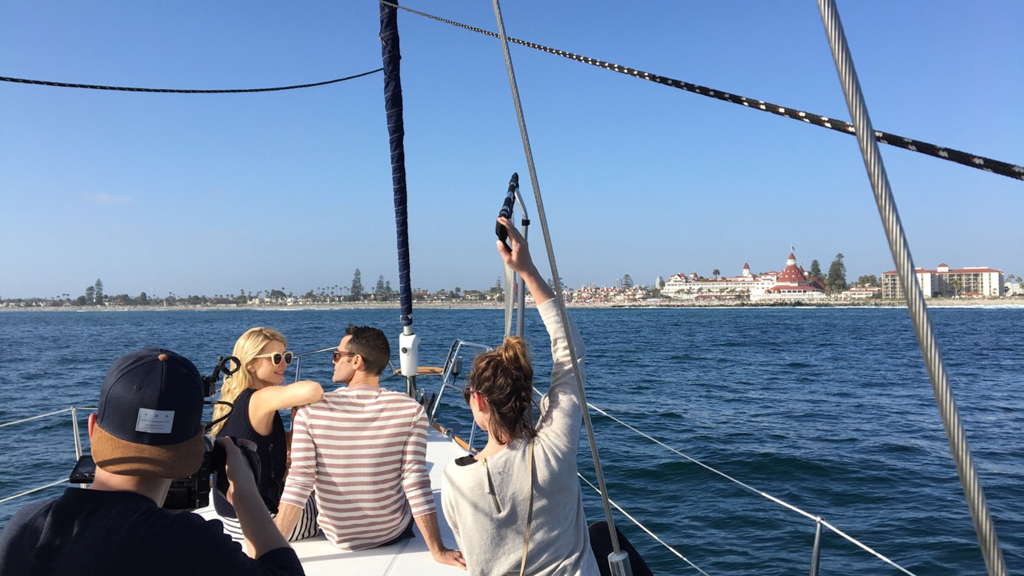 basecamp
We work in an open office with welcomed collaboration, ample whiteboards, coffee, two kegs on tap, a great sound system and ping pong table our space is always alive and makes for a fun atmosphere. We also have a photo and video studio which is fully equipped with lighting and gear.
We are located in the heart of Downtown Valparaiso, IN. Some of the best dinning, shopping and entertainment is literally right outside our doors. Besides having the best town square in the Region, we also have multiple parks, housing and a 20 minute drive to the lake shore and South Shore train station.